40 Tacky Kitchen Decor Mistakes
Tacky kitchens are all fun and games until you're the one who's staring down a ceramic chicken every morning while you wait for your coffee.  While there is no shortage of amazing kitchen styles and trends out there, there are even more that will make your home look like an interior design nightmare. In this slideshow, we're taking a look at all the many don'ts of decorating a kitchen. From obnoxious colors to dated styles to immature decor, these tacky trends are sure to get guests whispering behind your back at your next dinner party. 
If you're worried that a full backsplash would look too tacky, you can always try a short one. Granted, it will look just as tacky, but it's much easier to hide. 
Short Backsplashes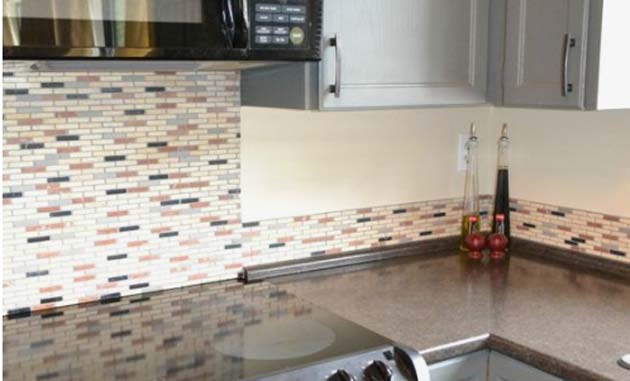 It doesn't protect the wall from stains, and it doesn't really stand out that much--you're basically paying for an extra useless row or two of tiles. 
Did you know...
In the summer of 2007, Joh Hamm became a household name when Mad Men premiered to critical acclaim and strong ratings. Just over a year and a half later, Ellie Kemper stole America's hearts (and Dwight's and Andy's) when she became the new receptionist on The Office. Before they were famous, Hamm was Kemper's high school drama teacher!
Jennifer Aniston's star-defining role on friends started a hair craze in the 90s that even lasted into the early 2000s. Called "The Rachel," Aniston's shoulder-length haircut had grown-out bangs and highlights styled to perfection. A hairdresser in Detroit noted that at the peak of its popularity, 40% of her business was devoted to recreating "The Rachel." Too bad that it was notoriously difficult to maintain on your own at home.
Björk created a media sensation when she wore her iconic white swan dress to the 2001 Oscars. At the time, many derided it as hideous and a publicity stunt, but it has since gone down as one of the most memorable dresses of all time—even if it isn't exactly beloved. She says David Bowie was the inspiration behind the dress.
Jackie Kennedy is famous for redecorating and renovating the interior of the White House. Actually, on just her first day, she ordered $50,000 in changes for new rooms for the children and upgrades to the kitchen. She later hosted a tour of the White House for CBS News which was viewed by 56 million people and won her an Emmy Award.
After her role as First Lady came to an end, Jackie Kennedy went into the publishing business. She became an associate editor at Doubleday and worked mostly on autobiographies. In fact, she was one of two original editors for Michael Jackson's 2009 autobiography Moonwalk, a #1 New York Times bestseller.